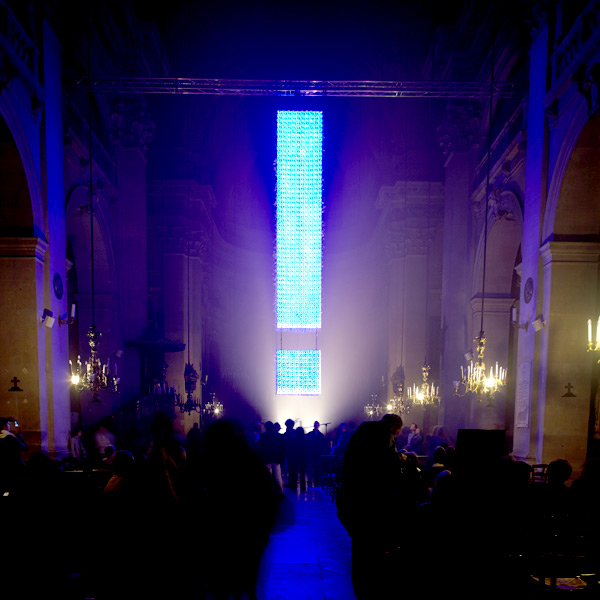 ↑
Reflexion !? at Nuit Blanche 2010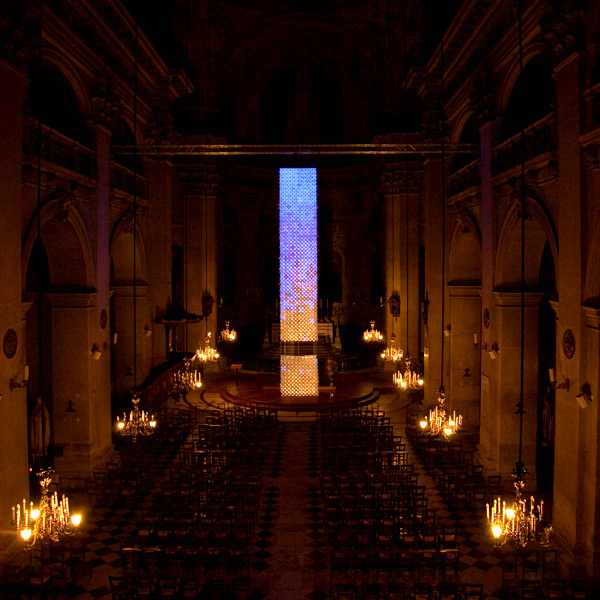 ↑ Reflexion !? at Nuit Blanche 2010

↑ Assembly of Reflexion !?

↑ Reflexion !? at french TV
---
All content © 2010 Djeff
« Réflexion !? » is a 10 meter high structure made of hundreds of light fans and thousands of sequined wires: a sound and visual installation that interacts with the air and ambient sound flows coming from human presence. Sound coming from the church audience is captured by the device for a minute and then materialized in a giant luminous exclamation mark. The captured sound cycle is played louder and louder for four minutes until it stops completely so a new ambience can be captured thus creating a new cycle. Visitors are invited to listen to the building and experience a new sense of meditation. « Réflexion !? » captures the church visitors' invisible and inaudible traces so they all add up and the venue finally resonates with their shadows, words, lights, breathing and whispers.
Construction de plusieurs mètres de haut, composée de centaines de ventilateurs lumineux et de milliers de fils pailletés, « Réflexion !? » est une installation visuelle et sonore qui réagit aux flux d'air et aux bruits engendrés par la présence humaine. Générés par la circulation du public au sein du bâtiment, les sons insensiblement s'additionnent et l'église Saint- Paul-Saint-Louis toute entière se fait caisse de résonance pour un grand point d'exclamation lumineux. Pendant une minute, les sons produits par les visiteurs sont captés par le dispositif, matérialisé visuellement par un point d'exclamation lumineux géant. L'activité sonore est ensuite retranscrite au cours d'un cycle de quatre minutes. Le niveau sonore augmente peu à peu pour se stopper net et recommencer sur un nouveau cycle. L'installation est conçue comme une invitation pour le public à écouter les voix de l'édifice et à se réapproprier ainsi la notion de recueillement. "Réflexion !?" transpose dans le temps la présence des visiteurs. Leur passage et les traces sonores qu'ils laissent naturellement s'ajoutent aux précédentes jusqu'à révéler la résonance invisible et inaudible du lieu. Cette surimpression d'ombres, de lumières, de flux d'air, de sons et de murmures permet aux spectateurs de découvrir leurs reflets sonores et lumineux.
Contact:
► press@djeff.net